As an alternative to saving scanned pages to a single PDF or DjVu file, you can save them to multiple image files.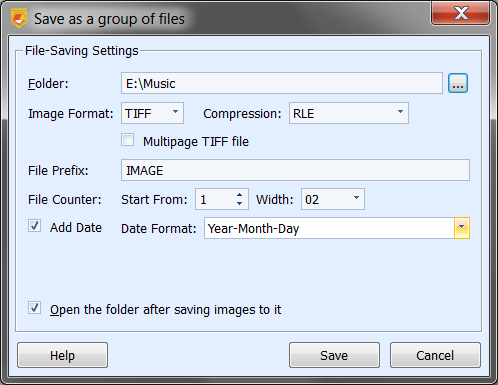 Use the Folder field to select a folder to save images. To select a folder, click the field or the three-dots button on the right.

Use the Image Format listbox to select the output file format. The following formats are available: JPEG, TIFF, PNG, or BMP.

When saving to JPEG, you can set the image quality from 50% to 100%. The default quality is 85%.

When saving to TIFF, you can select an image compression algorithm:

LZW, RLE – Can be used for any images.
JPEG – Can be used for any images, except for black-and-white ones.
CCITT Group 4 – Can be used for black-and-white images only.

You can also save images to a multi-page TIFF file by checking the Multipage TIFF file checkbox.

The File Prefix field allows you to define the names of the output files.

You can use the following special characters in this field:

[C] – Counter. A consecutive number will be added to each file's name.
[D] – Date. The current date will be inserted in each file's name.

You can use the Counter [C] and Date [D] buttons to insert the special characters.

If a file with the specified name already exists, ScanPapyrus will add an additional number enclosed in round brackets to the filename.

If the Open the folder after saving images to it checkbox is checked, the folder will be opened in Windows Explorer.
See also
Save to PDF
Save to DjVu
Save to Word