ScanPapyrus - Getting Started
ScanPapyrus is a software application for scanning paper documents or paper books/copybooks using a flatbed scanner or multifunction device (scanner/printer/copier). ScanPapyrus can save scanned pages as a Adobe PDF, DjVu or Microsoft Word 2007 (.docx) document, or as multiple JPEG, TIFF, BMP, or PNG image files.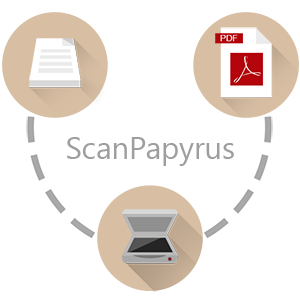 The key feature of ScanPapyrus is the automatic scanning of documents or books: ScanPapyrus can start scanning each page automatically at a specified time interval. During the in-between time, you can turn the page of a book or change the page of a document in the scanner.
ScanPapyrus can automatically adjust the resulting image. It can increase the sharpness, remove gray background, crop the image, and remove the black stripes produced by the scanner when its lid is not closed. Now, thanks to the image processing, you can leave the scanner's lid open when scanning a book or a document, and ScanPapyrus will remove the black stripes.
Another key feature of ScanPapyrus is the automatic splitting of book spread into two separate pages. The application detects pages using an intelligent algorithm, so that facing pages can be automatically split into single pages. This way, you can scan a pair of facing pages at once to get two single pages. This approach significantly reduces the time to convert a paper book into the PDF or DOCX format.
ScanPapyrus can also insert any image from an external file into your project. The image will be inserted as a PDF page. The following file formats are supported: PDF, DjVu, JPEG, TIFF, BMP, and PNG. ScanPapyrus can increase their sharpness, compensate for the background, crop the images to remove unnecessary margins or stripes, and correct any skew.