Save the document to a folder
This dialog box allows you to export scanned pages to multiple image files (JPEG, TIFF, PNG, or BMP), or to one multi-page TIFF file.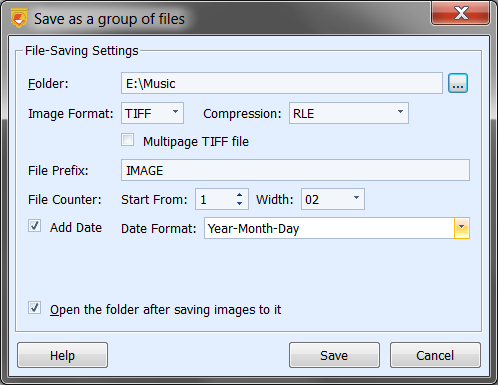 Use the Folder field to select a folder to save images. To select a folder, click the field or the three-dots button on the right.

Use the Image Format listbox to select the output file format. The following formats are available: JPEG, TIFF, PNG, or BMP.

When saving to JPEG, you can set the image quality from 50% to 100%. The default quality is 85%.

When saving to TIFF, you can select an image compression algorithm:

LZW, RLE – Can be used for any images.
JPEG – Can be used for any images, except for black-and-white ones.
CCITT Group 4 – Can be used for black-and-white images only.

You can also save images to a multi-page TIFF file by checking the Multipage TIFF file checkbox.

The File Prefix field allows you to define the names of the output files.

If a file with the specified name already exists, ScanPapyrus will add an additional number enclosed in round brackets to the filename.

The File Counter control group allows you to set up a counter, the value of which will be appended to each file's name.

The Start From field determines the initial value of the file counter, that is, the number to be appended to the first file's name.
The Width field determines how many digits will be appended to each file's name. For example, if you specify 003, the file names will be like IMAGE_001.jpg, IMAGE_002.jpg, IMAGE_003.jpg, ..., IMAGE_999.jpg, IMAGE_1000.jpg, IMAGE_1001.jpg, etc.

The Add Date checkbox appends the current date to each file's name.

You can select one of the following date formats:

Year-Month-Day – The date appended to each file name will look like 2017-12-31.
Day-Month-Year – like 31-12-2017.
Month-Day-Year – like 12-31-2017.
d-MMM – like 25-Dec.
d-MMMM-yy – like 25-December-17.
d-MMMM – like 25-December.
MMMM yy – like December 25.

If the Open the folder after saving images to it checkbox is checked, the folder will be opened in Windows Explorer.
See also
Save to PDF
Save to DjVu